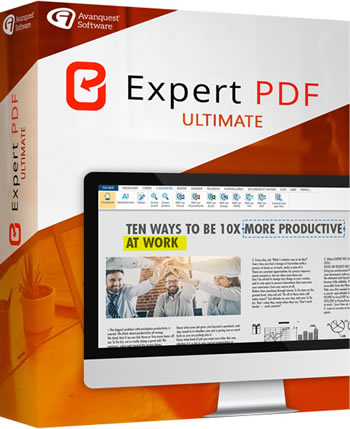 eXpert PDF 14
The best solution for converting, creating, and personalizing your PDF files!
eXpert PDF 14 is the answer to all your PDF needs, whether it's converting PDFs to different file formats (Word, JPEG, Excel, PPT …) or editing, protecting or sharing PDFs. The Ultimate version also includes the Optical Character Recognition (OCR) feature, which extracts text from image files and converts it into editable PDFs. Test all the features included in the Ultimate version free for 14 days by downloading the trial version.
NEW! Addition of the PDF/A save format to permit the archiving and retention of PDF contents over a very long period.
NEW! Bates indexing: Indexing method that makes it easier to search for and identify documents. It makes it possible to increment the index automatically (Bates number, page number or number of pages).
IMPROVED! Major update to forms, now including a spelling check, new layout symbols and the calculation of values in text boxes
IMPROVED! Possibility of rotating all the shapes available in Expert PDF
NEW! Addition of "Cloud" shape to measure distances and highlight certain sections
IMPROVED! The Bookmarks panel is now much more functional. It is possible to add a bookmark without having to use the "Add Actions" option.
MORE! OCR Tool – edit text in just one-click in your PDF files.
MORE! Convert documents without re-typing
MORE! Search text in scanned documents in 8 different languages
Configuration required:

512 MB of RAM (1024 MB Recommended)
Intel Pentium® IV 1.6 GHz Processor
30MB of free disk space

Compatible with:

Windows XP, Windows Vista 32-bit,
Windows Vista 64-bit, Windows XP 64-bit,
Windows 7, Windows 7 64-bit, Windows 7 32-bit,
Windows 8, Windows 10.