THE SIMPLIFIED PDF SOLUTION FOR PROFESSIONALS AND BUSINESSES
Expert PDF offers you a range of simplified tools to improve the day-to-day management of your professional documents!
Create PDF. Edit. Modify. Convert to Word - Excel - PPT - jpeg
Compare 2 PDFs. Hide sensitive data
Mass archiving of PDFs
Digital signature on your contracts and invoices
Secure your sensitive PDF data
Digitise your papers to create modifiable PDFs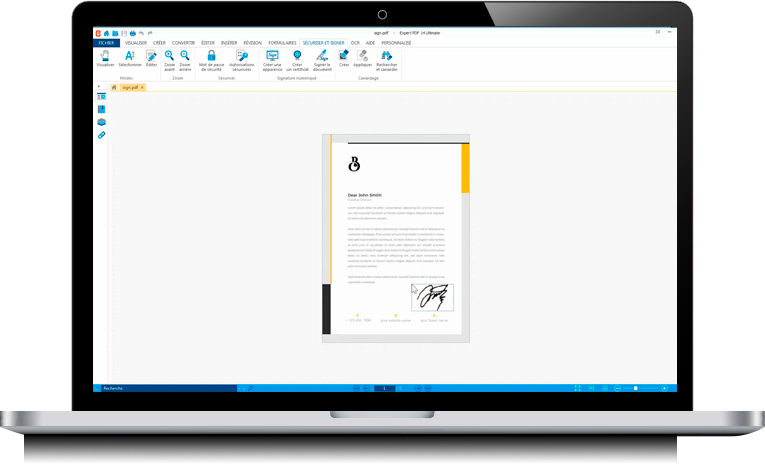 *Offer reserved for businesses
Our software covers 100% of your needs

A collaborative tool designed for professionals

DISCOVER THE PDF SOFTWARE
of choice for PC and Mac
Are you self-employed, an entrepreneur or a business that handles and exchanges professional PDF files on a daily basis?
Do you work in national education, the legal profession or for a public administration?
Do you need to communicate your lessons in PDF format and correct them, all while safeguarding the data?
Do you have to sign contracts and invoices digitally (e-signature)? Or even convert or archive documents in bulk?
Do you need to dematerialise paper documents in order to modify them directly on a PC?
Do you have to hide (remove) elements from a PDF or reduce the size of the file before sending it by e-mail?
EXPERT PDF is the expert software for managing your work documents, at an affordable price, and available for PC and MAC.
REQUEST QUOTE
Volume licence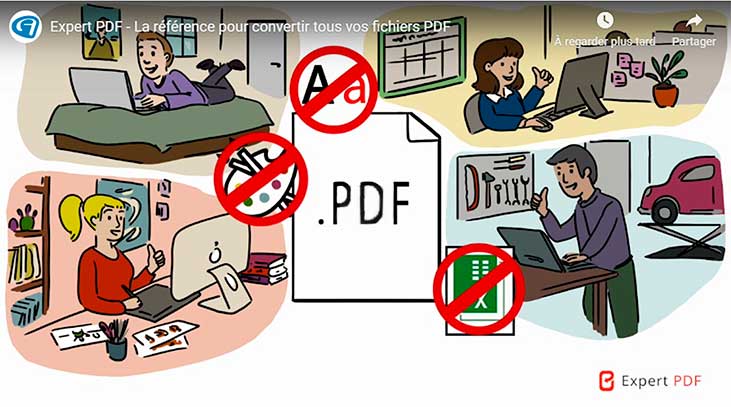 MANAGE YOUR PROFESSIONAL DOCUMENTS WITH A POWERFUL SOLUTION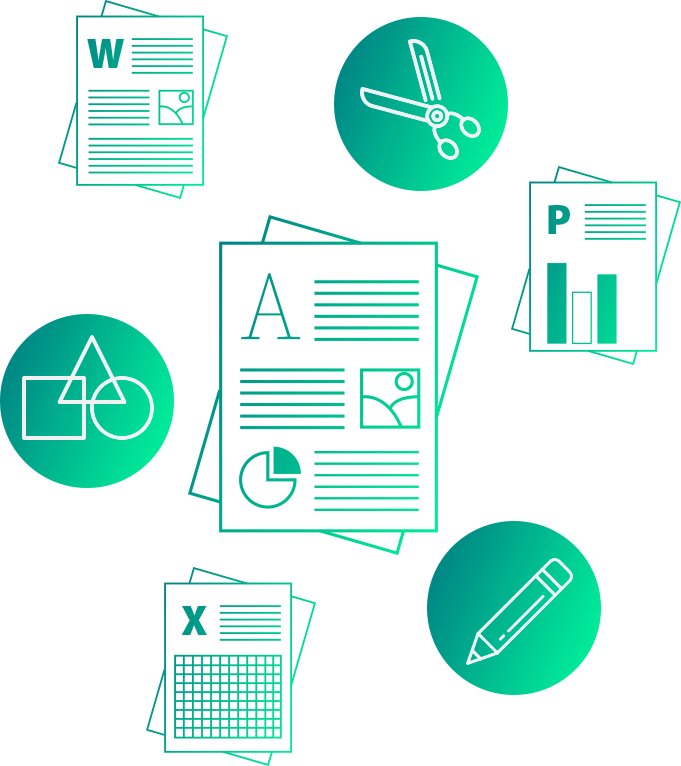 CREATE EFFICIENT PDF DOCUMENTS
Creation of searchable PDFs and PDFs that are compatible with your line of business, from any PC application offering a print menu (Word, Excel, PowerPoint, Internet Explorer, MS Office, HTML, TXT, image, RTF)
Use conversion to PDF/A format to archive official documents.
Convert, edit, split, merge, extract data, and compare several PDFs
Convert images, invoices, contracts and other paper documents, digitise them as searchable PDFs thanks to OCR technology.
New standard: Create PDF 2.0 documents
Protect your PDF pages from plagiarism by adding PDF copyright watermarks.
Index your PDF files by adding Bates numbering for legal, medical and commercial documents. Identify each page of the same document uniquely.
Use the PDF COMPRESSION function to reduce the size of your PDF files while maintaining the quality, before sending them by e-mail.

You don't need to be an expert to manage professional documents

SECURE AND PROTECT YOUR SENSITIVE DATA IN PDFS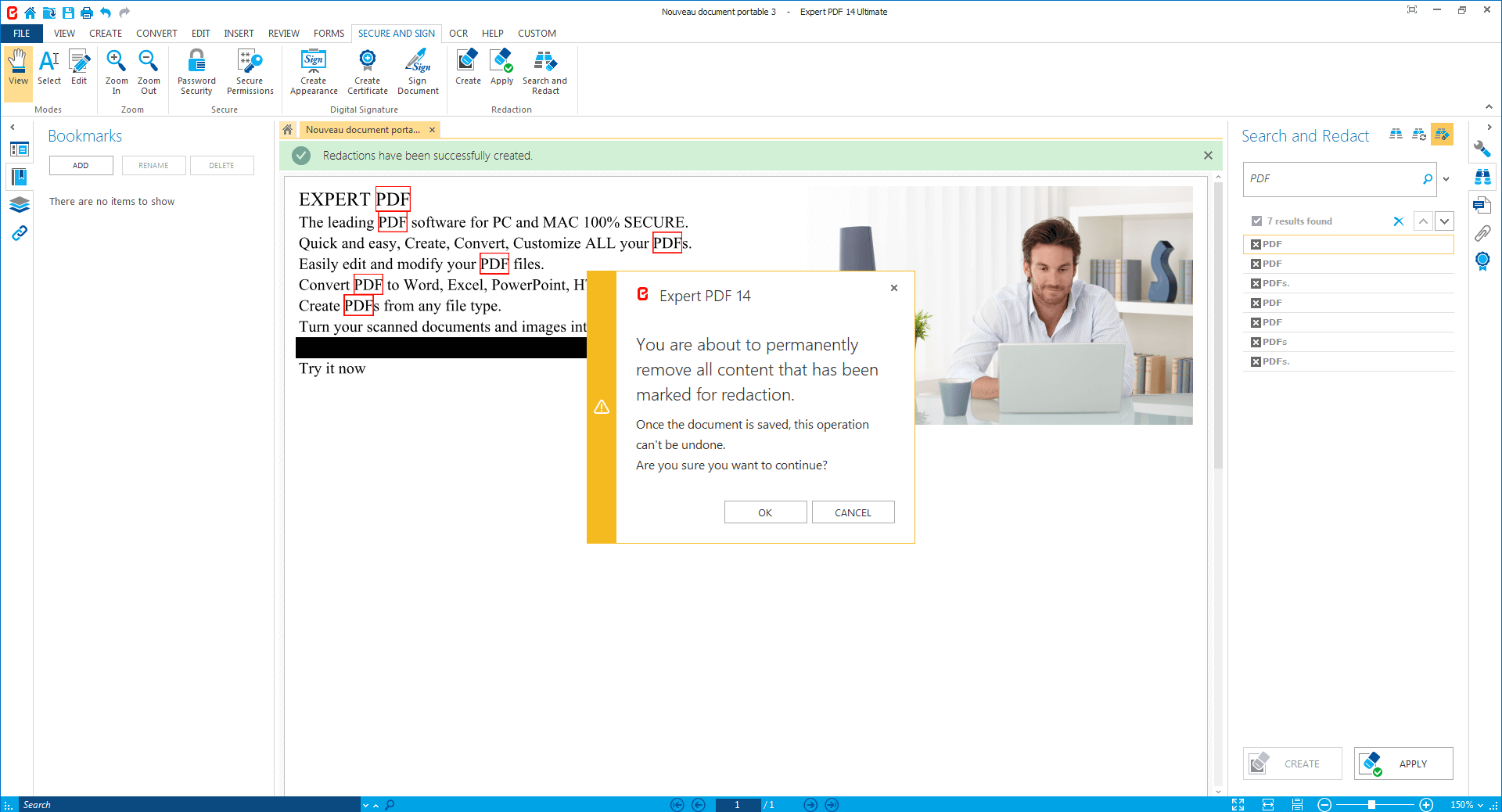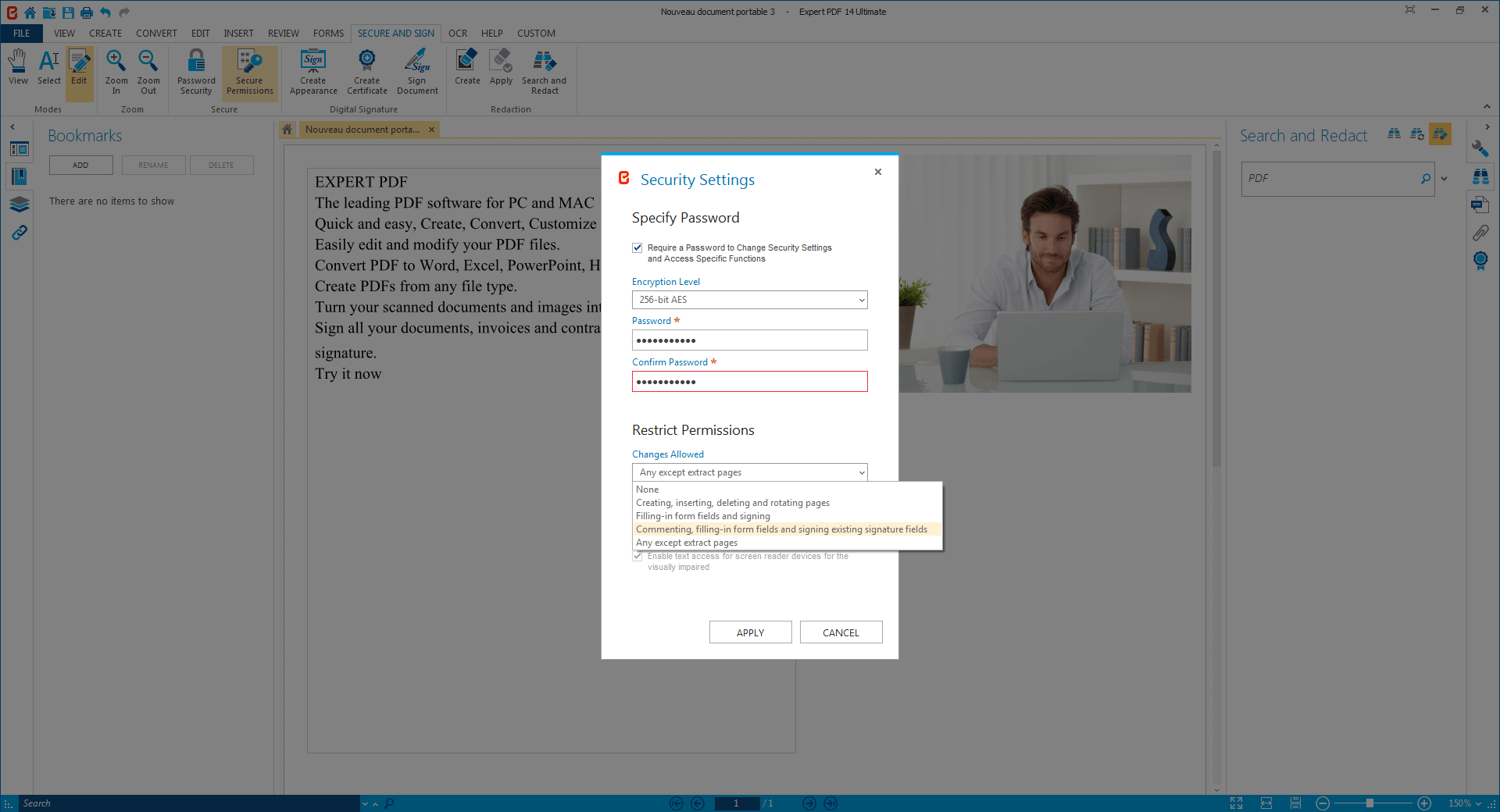 Use the correction and redaction functions to delete, remove or hide sensitive data in your PDFs (personal data, figures, bank account details...)

Secure your confidential documents using passwords and access rights.

Limit authorisations to guarantee the authenticity of important files.

Get a head start with your PDF files

IMPROVE YOUR COLLABORATION ON PDF FILES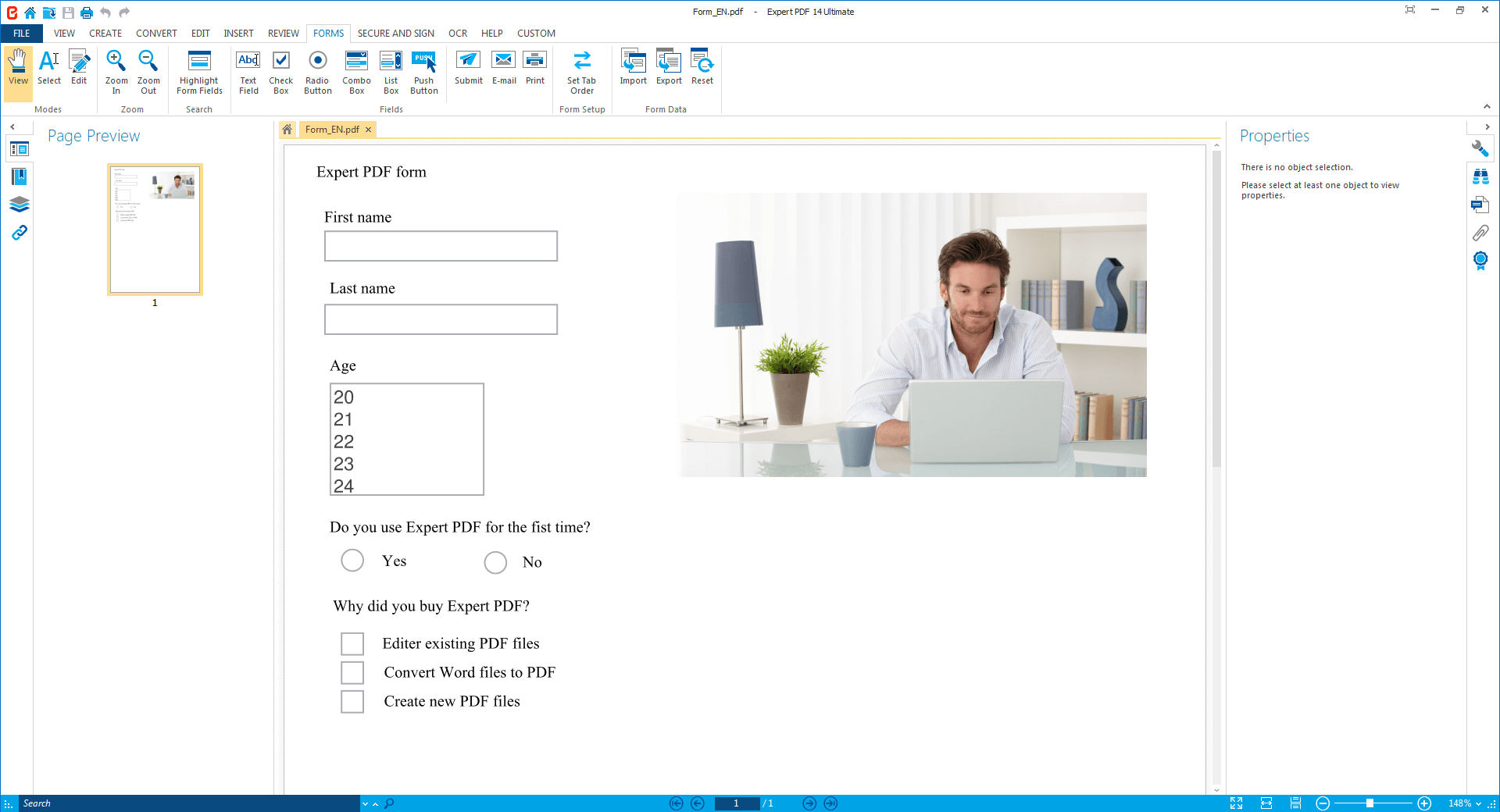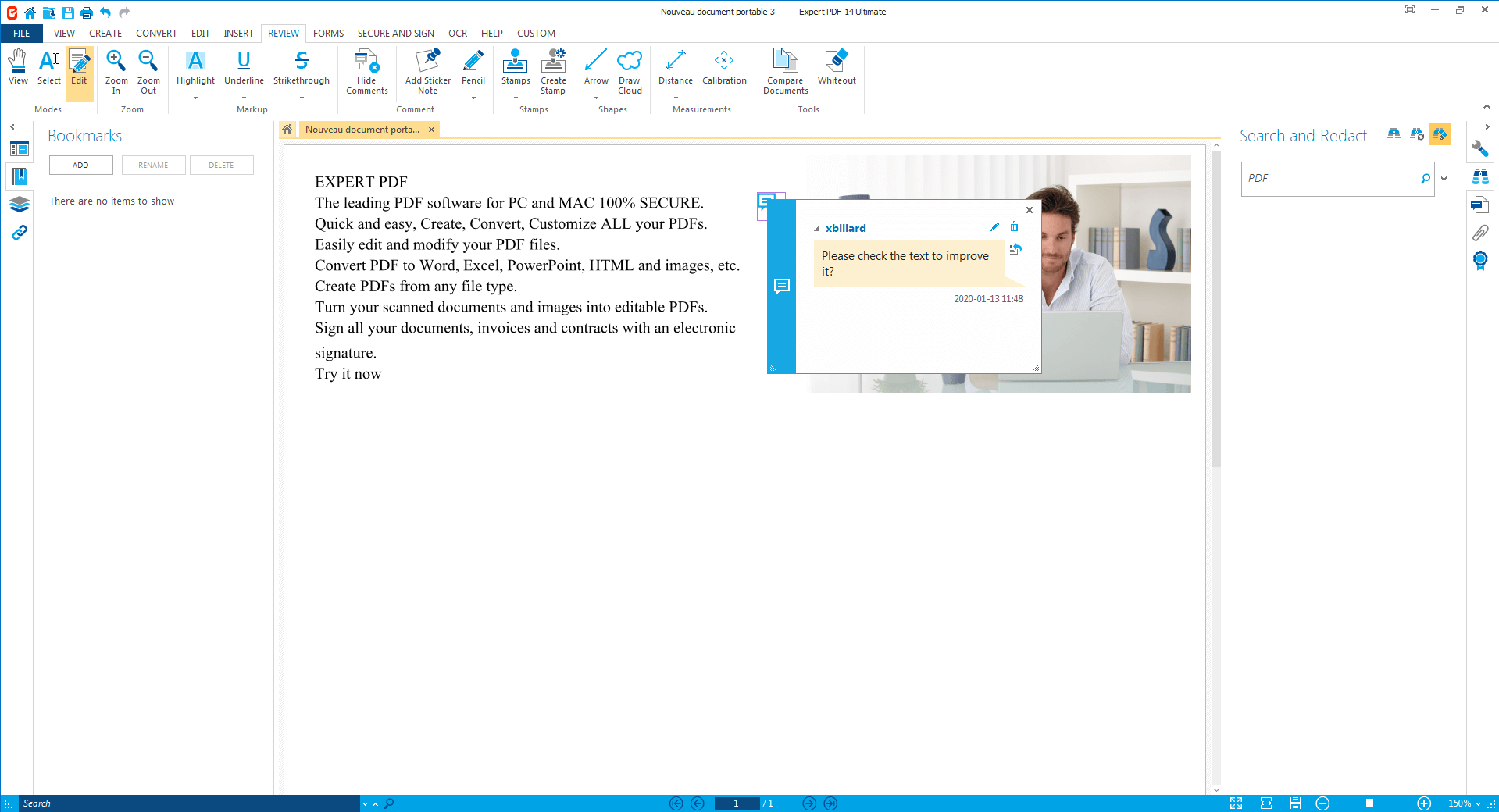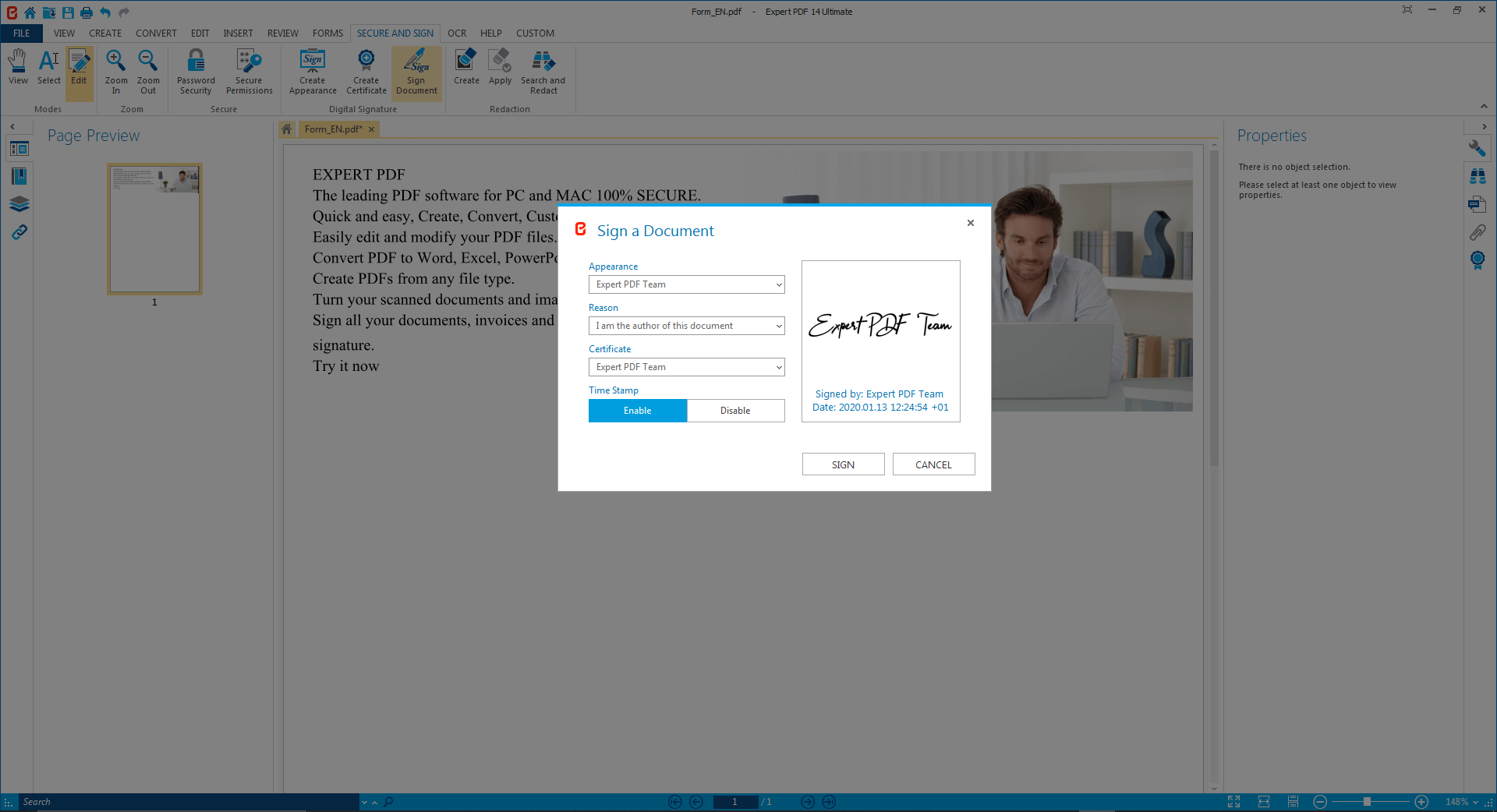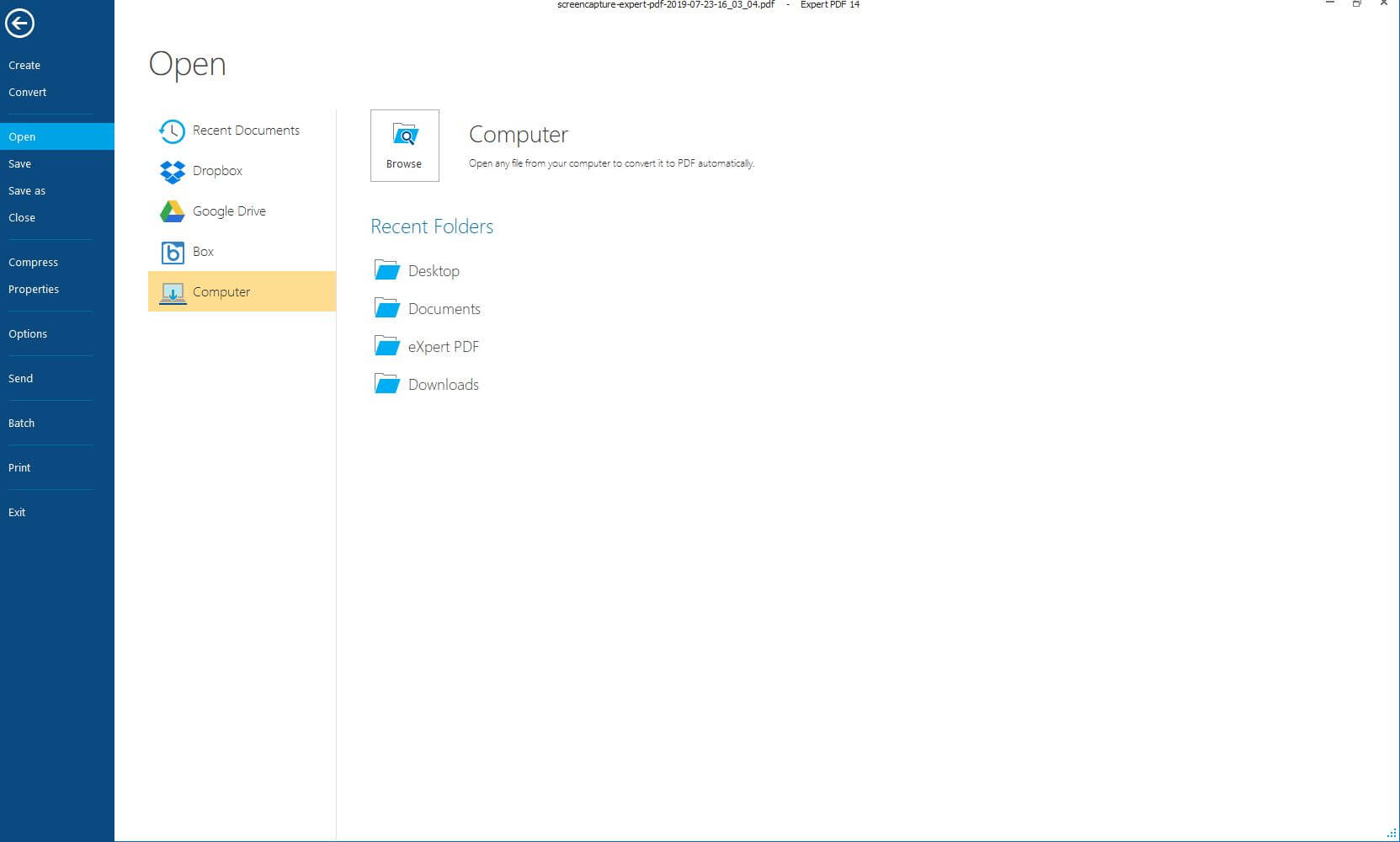 Create forms, questionnaires, surveys with interactive fields in PDFs that can be edited directly by your recipients.
Approve PDFs, leave a comment for your colleagues using the Annotation function and send your documents to colleagues for review.
Goodbye paper – sign PDFs with legally-binding digital signature certificates.
Consult and send your files via Dropbox, Google Drive, OneDrive or Box.

Manage your projects with greater agility

BE MORE PRODUCTIVE IN MASS DOCUMENT MANAGEMENT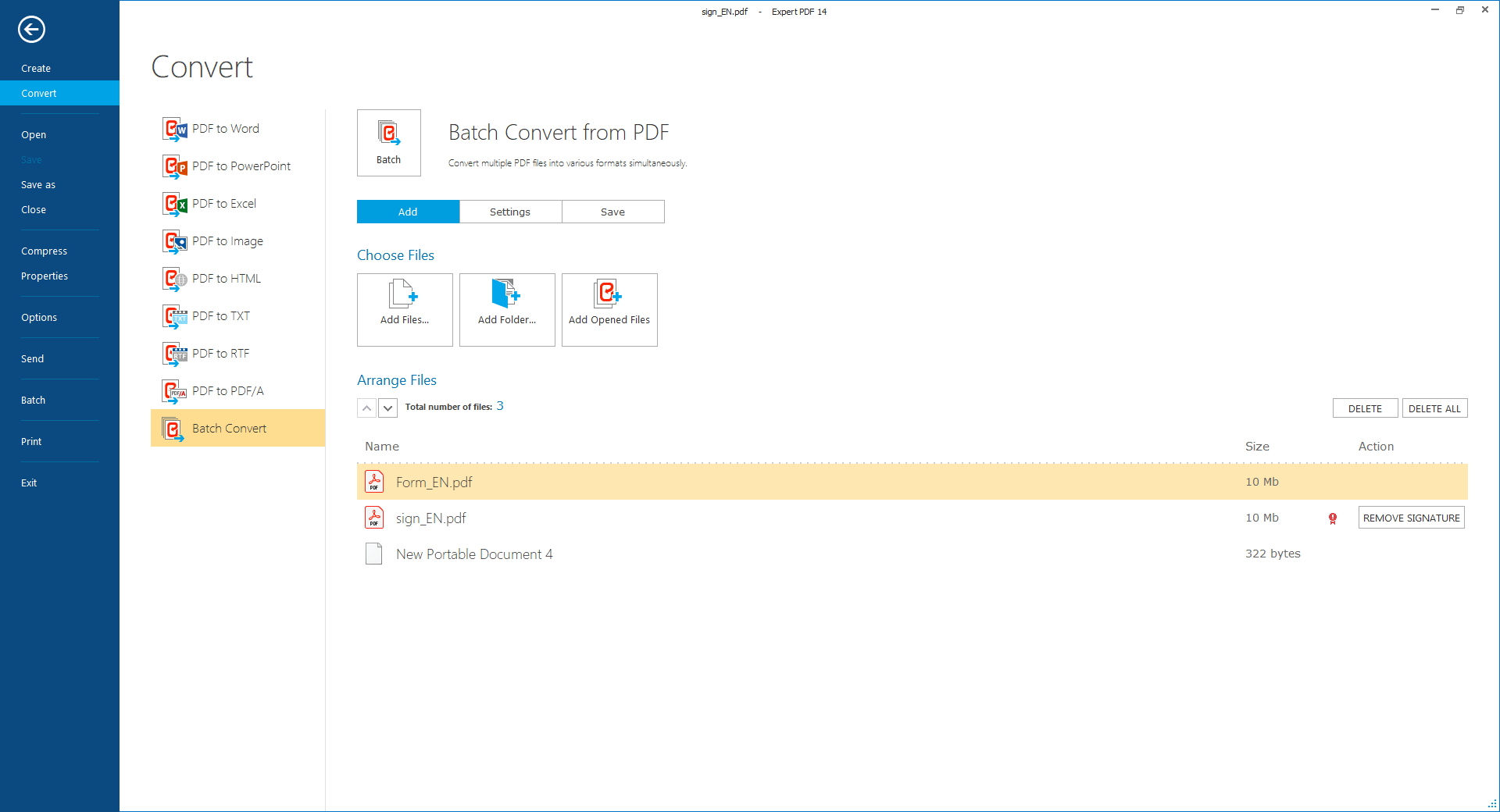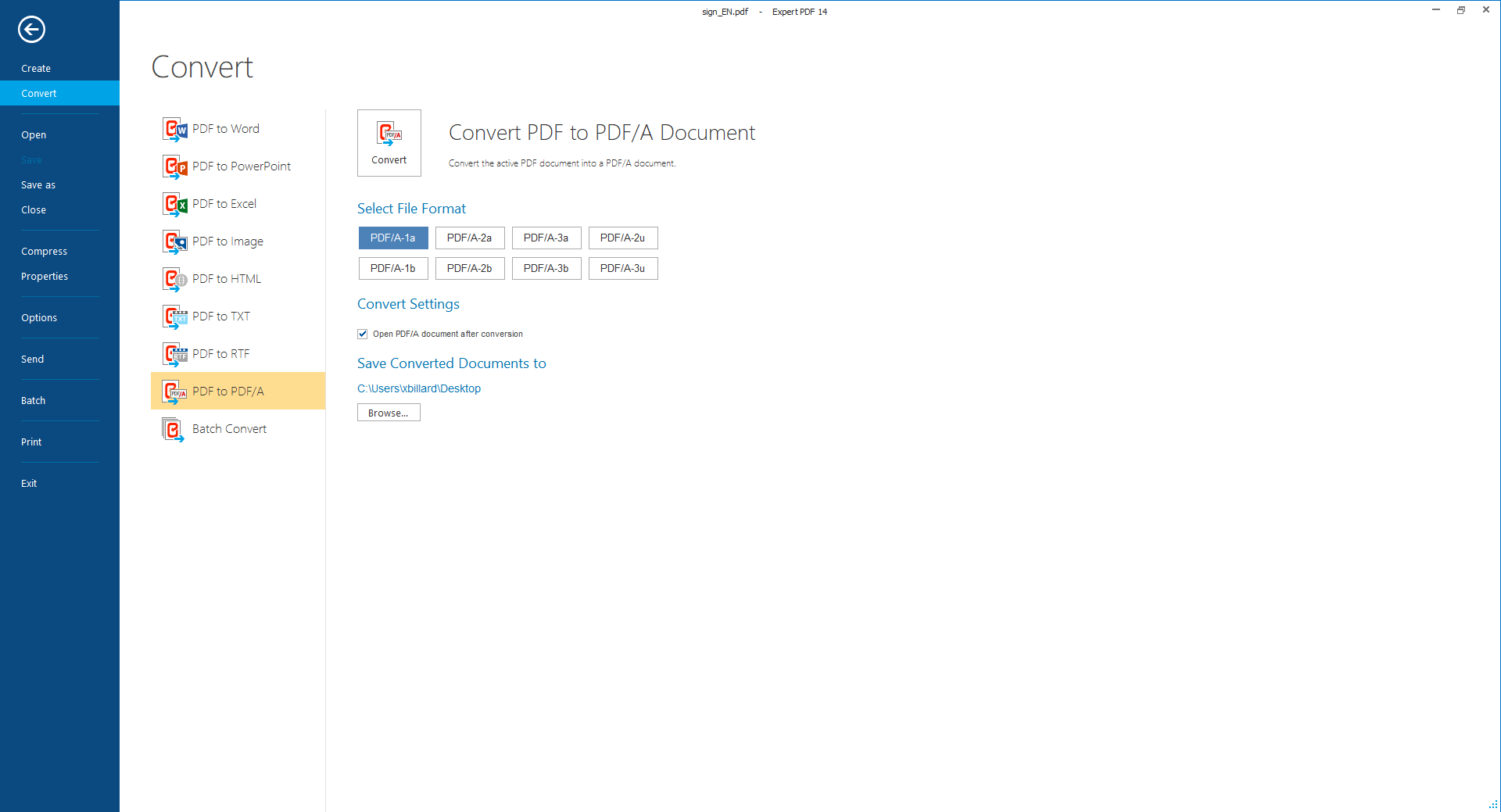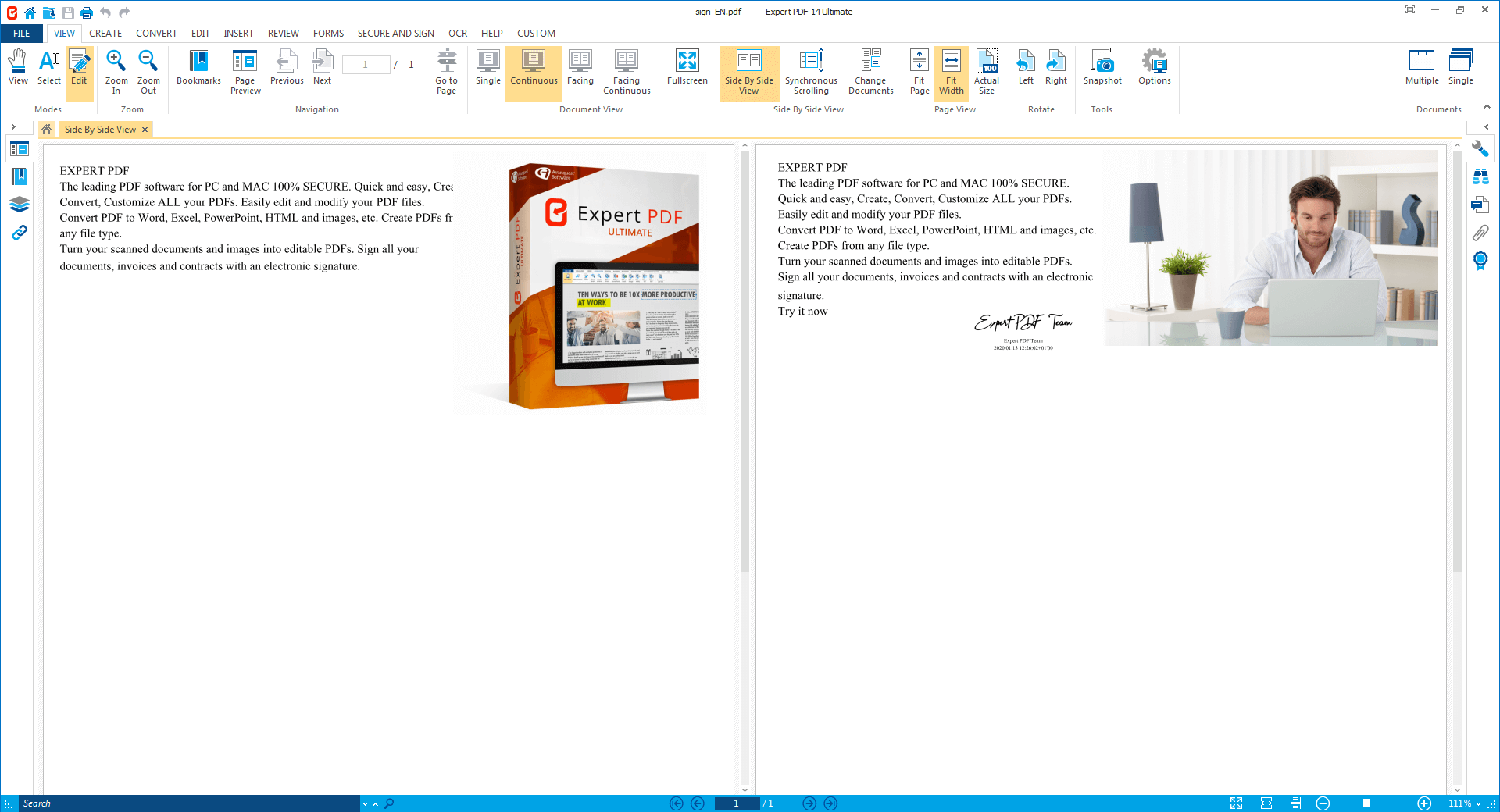 Automate document conversion tasks: Conversion of PDF files in batches or conversion of PDFs by pages
PDF/A conversion and Optical Character Recognition (OCR)
Work on several PDFs at once, using tab or window mode as well as the display side-by-side function with synchronous scrolling option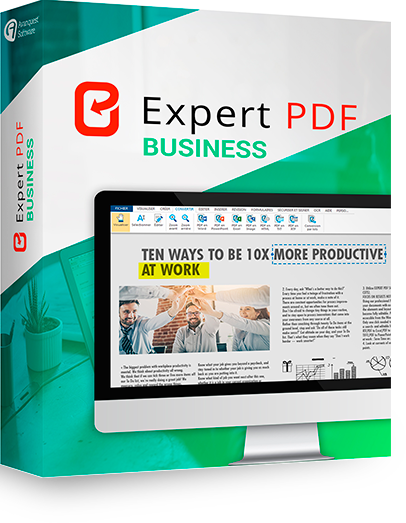 SAVE TIME AND MONEY.
EXPERT PDF IS THE AFFORDABLE SOFTWARE
FOR PROFESSIONALS AND BUSINESSES.