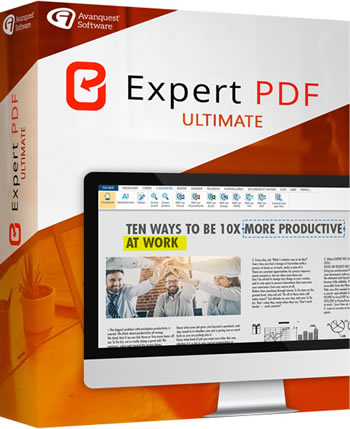 eXpert PDF Ultimate
The ultimate tool for converting, creating and customising your PDF files!
$89.99 Licence 1 year
eXpert PDF 11 Ultimate in a few words
Create PDF files from your Office applications on your PC – Word, Excel, PowerPoint, Visio, etc.
Convert your PDF files into the Word format
Protect your PDF files and send or share them safely
Gain access to collaborative tools and revisions
Access the text in your files using OCR with just one click
Enjoy working with an even more intuitive user interface
The "Cancel" button is now included in the initial view mode
Create grouped conversions of your PDF files to the Word, Excel, PowerPoint, RTF, TXT, HTML and picture formats
Get new signing properties
Compare two documents faster
New Features
NEW! Custom Tab
Personalize a menu with your most-used features for quick access
NEW! Search & Replace
– Search for a specific keyword in a PDF file and automatically replace it with another word
NEW! Right Click options menu in View and Select modes
– Easily highlight, strikethrough, underline
– Redact selection, Search selection, Create Link
– Take Snapshot, Search Document
– Insert Bookmarks and Sticker Notes
IMPROVED! Side by Side View
IMPROVED! Virtual Drives Access
Connect to a virtual drive as Dropbox, Box or Google Drive to Save and Open directly your files
NEW! Redaction Tool
Remove any content with a click of a button, text and picture
NEW! Search & Redact
– Search for a specific keyword or expression in a PDF file and automatically redact it
NEW! Measurement Tool
– Measure the distance between two points
– Outline a polygon to measure its perimeter
– Outline a polygon to measure its area
– Calibrate measurements tools
Ultimate version features at a glance
Expert PDF Ultimate is the ideal solution to handle all aspects of PDF document management. This software can meet every single one of your PDF file requirements.
Its new, even more usable and even more intuitive interface is packed with possibilities:
Open and view all PDF files
Convert your PDF files to other formats (picture, Word, Excel, PowerPoint)
Create PDF files
Edit and rework PDF files
Stick notes and add comments to your documents
Insert active questionnaires
Easily access plain text with the OCR module
Protect your documents
Using the Expert PDF Ultimate software for daily tasks
Converting files to a universal format
You no longer need to find out whether the person you are sharing your file with has the appropriate application to view it.
Identical output files
No matter what computer or platform you are using, the PDF file formatting remains exactly the same when the file is opened. The person you share the file with is sure to view the file exactly as you designed it.
Reduced conversion time
With the batch conversion feature, you will be able to convert a sizeable number of PDF documents in record time. You can then merge them into a single PDF file.
Email sending made easier
The PDF format is the ideal format to send by email as it is smaller in size compared to, say, a Word or Excel file.
Editing PDF file with merely a few clicks
With Expert PDF Ultimate, you can do everything. You can convert your PDF file into other formats, add or remove pages, rework your document… The possibilities for modifying are endless, and just a few clicks away.
Safe file sending and sharing
With Expert PDF Ultimate you can safely send invoices, administrative and legal documents protected by a password or a digital signature, or by the print, copy or modification authorisations you define.
Inserting notes and comments
With Expert PDF Ultimate, you can insert notes, comments or a stamp mostly without having to modify the content. This function comes in handy when several of you are sharing the same document!
Optical character recognition or OCR
With this function, you can run searches in scanned documents. You can also choose to convert your PDF files into documents that are easier to work with.
What's new in Expert PDF Ultimate?
Expert PDF Ultimate brings you plenty of innovative features and improvements over the previous version. For instance, with this software, you can:
Open files much faster
Work in an optimised, intuitive interface
Convert PDF files to all formats (Word, Excel, PowerPoint, picture, RTF, TXT, HTML)
Undo an action using the "Cancel" button
Compare documents
Display converted PowerPoint files
Edit PDF files much faster
Detailed list of Expert PDF Ultimate functions
PDF viewer
The Expert PDF Ultimate version allows you to open and view all PDF files and 3D ebooks in ePub format.
You can now easily open two PDF files at the same time on the same screen using side-by-side display.
PDF converter
PDF file conversion is accurate with no loss of information. All the elements (text, page set-up) can be retrieved and become modifiable.
What's more, you can access the PDF conversion program directly from your Windows desktop and save your valuable time, using the one-click access to convert your PDF file into several formats:
Word, .txt, .rtf
PNG, JPEG, GIF, BMP, TIFF picture formats
Excel
HTML
PowerPoint
You can run the PDF creation function from any PC application that has a Print menu, such as Word, Excel, PowerPoint, Internet Explorer. Just right-click on the files to create the PDF. You no longer need to open the documents to convert them! One click is all you need to start converting documents for Word or Excel.
You can also create PDF files from pictures in various formats (JPG, JPG 2000, GIF, TIF, PNG, EMF, BMP), manage hyperlinks and URLs, preview your document before converting it, send it automatically by email through Microsoft Outlook, or even save conversion profiles according to your habits and preferences: encryption level, password, picture compression, watermark, etc.
Also, you can now easily add the document properties (author, title) for simpler, faster searching.
The time you save with Expert PDF Ultimate is considerable, and automation is central to all its functions. You will find that batch conversion is also particularly efficient, as you can merge several documents into a single PDF document.
PDF file modification
Editing PDF files is child's play with Expert PDF Ultimate! Cut, copy, paste, move, delete any content or redo its properties (font, font size, character spacing) at will, edit your pictures (add, delete, modify a picture, compress or resize it) or add elements (hyperlinks, for instance)! You can quickly insert lines, ellipses, curves and other forms with the design tools, and print watermarks in seconds. You can also attach all types of files, such as audio or video files, to your PDF.
To do so, make use of the bookmark system to navigate smoothly within files and favourites to access the PDF files you use most. With Bates numbering, you can also annotate your PDF to make it unique and easy to find.
The tab system lets you edit several PDF documents simultaneously. When making multiple modifications, you can use this software to add headers, footers and watermarks quickly and easily, and create predefined and customisable stamps in your stamp library.
Also, you can compress the various elements that comprise a file so as to reduce its size.
Interactive form creation
Another advantage of the Expert PDF Ultimate software is that you can create interactive forms.
Automatically transform your PDF file into a PDF form that can be filled in directly online from a simple PDF reader. Customise your textboxes, form objects, buttons, checkboxes, etc. You can even insert scripts if you want to!
And of course, you can allow automatic data entry and Web page opening with hyperlinks.
With Expert PDF Ultimate, importing or exporting data in the form fields in one PDF file to another PDF file is really easy.
PDF file revision
As we have seen, Expert PDF Ultimate will be your new partner to modify your PDF file and to make corrections.
Use the annotation tools (highlight, note, comment) or shape changer tools, or even use the pencil, corrector or highlighter to easily revise a  PDF file.
Signature-based PDF file protection
With Expert PDF Ultimate, you can protect your PDF files with a password, manage access rights to your files, and add a digital signature to certify them. The software doesn't stop there! It supports PDF ciphering with 256-bit RC4 or AES encryption algorithms.
Customer reviews