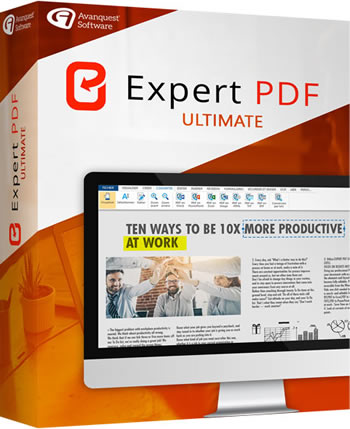 eXpert PDF 14
¡Su mejor aliado para convertir archivos a PDF, editarlos y personalizarlos!
Nuestro programa eXpert PDF 14 es la respuesta a todas sus necesidades: permite convertir archivos PDF a distintos formatos (Word, JPEG, Excel, PPT), editarlos, protegerlos y compartirlos de forma rápida y sencilla. Además, con la versión Ultimate del programa podrá disfrutar de la función de reconocimiento óptico de caracteres (OCR), que le permitirá convertir archivos PDF creados a partir de una imagen escaneada. Descubra estas prestaciones y muchas más descargando la versión de prueba de la versión Ultimate de forma totalmente gratuita durante 14 días.
NEW! Addition of the PDF/A save format to permit the archiving and retention of PDF contents over a very long period.
NEW! Bates indexing: Indexing method that makes it easier to search for and identify documents. It makes it possible to increment the index automatically (Bates number, page number or number of pages).
IMPROVED! Major update to forms, now including a spelling check, new layout symbols and the calculation of values in text boxes
IMPROVED! Possibility of rotating all the shapes available in Expert PDF
NEW! Addition of "Cloud" shape to measure distances and highlight certain sections
IMPROVED! The Bookmarks panel is now much more functional. It is possible to add a bookmark without having to use the "Add Actions" option.
MORE! OCR Tool – edit text in just one-click in your PDF files.
MORE! Convert documents without re-typing
MORE! Search text in scanned documents in 8 different languages
Requisitos:

RAM: 512 MB (1 GB para Vista, 7 y 8)
Procesador: Pentium III o equivalente
Espacio en disco: 30 MB o más

Compatibile:

Windows XP, Windows Vista 32-bit,
Windows Vista 64-bit, Windows XP 64-bit,
Windows 7, Windows 7 64-bit, Windows 7 32-bit,
Windows 8, Windows 10.